Sydney Beaches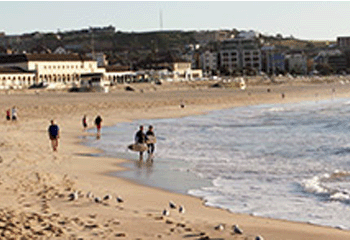 Sydney is home to some of the finest and most famous beaches in the world. There are dozens of surf beaches and harbour coves waiting for you to explore. We recommend that you wear a hat and put on your sun lotion - the Aussie sun is harsh! Amongst the most famous and accessible beaches are:
Bondi Beach
Popular with backpackers, billionaires, board riders and the body beautiful, Bondi is one of Sydney's most stunning beaches. A walk along the beachfront promenade gives you the chance to experience its carefree sun-drenched lifestyle. Bondi Beach is about 30 minutes by public transport from the Sydney city centre.
The Bondi Beach to Coogee Beach Walk is a 6km (one way) picturesque coastal route that weaves across beaches, bays, cliffs and stunning Pacific Ocean views.
Manly Beach
Nestled between a tranquil inner-harbour beach on one side and a popular Pacific Ocean surf beach on the other, Manly combines a laid-back attitude with a sophisticated dining scene and stylish shopping.
Ferries leave from Circular Quay to Manly regularly.
Other information: http://www.sydney.com/things-to-do/beach-lifestyle/sydney-beaches
Other useful links
Register Online
Key Dates
Call for Proposals Open 12 September 2016
Registration Opens 19 September 2016
Call for Refereed Paper Abstracts Closes 23 October 2016
Notification of Acceptance for Refereed Paper Abstracts 15 November 2016
Full Paper from Accepted Abstracts Due 6 February 2017
All Other Submission Types Due 20 February 2017
Notification of Acceptance for All Other Submission Types 10 April 2017
Early Bird Registration Extended till 12 May 2017
Pre-Conference Workshops 27 June 2017
HERDSA 2017 Conference 28 – 30 June 2017